Moxi Theater
@ 8:00 pm
All Ages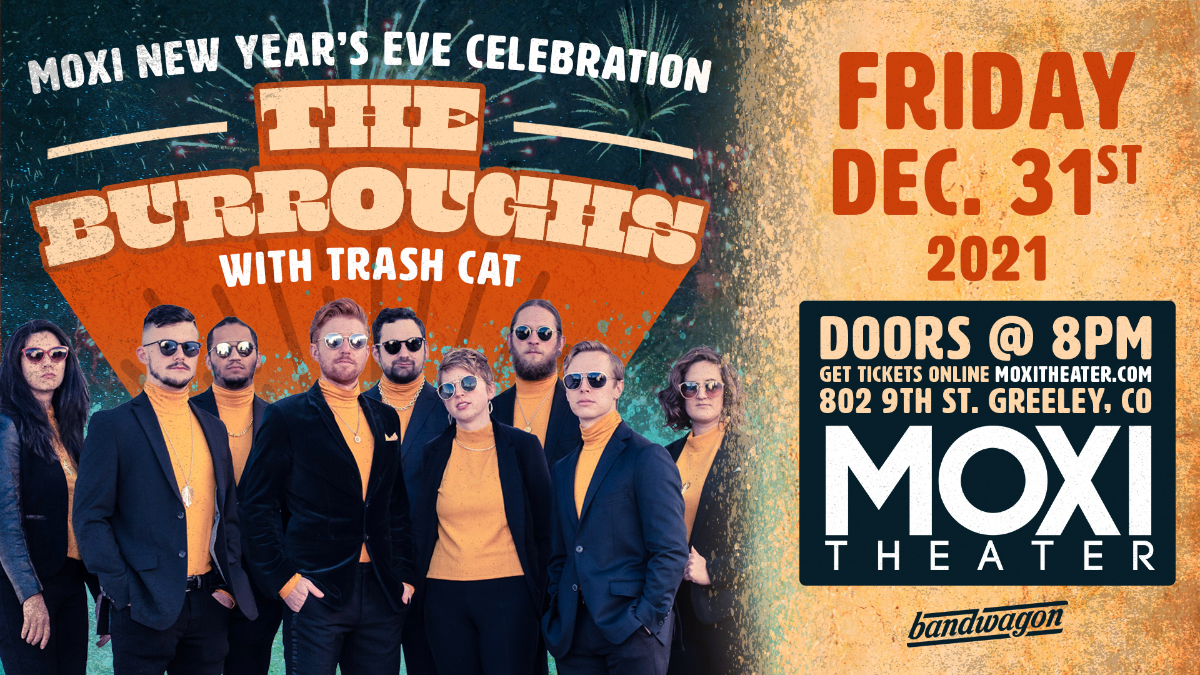 Additional Info
PUBLIC ON SALE - FRIDAY OCTOBER 29th, 2021 @ 10AM MST

PRE-SALE ACCESS:
Join the BandWagon Text Club and Text "MOXI" to 307-241-3838 to get the secret presale access code!

8:00 Doors | 9:00 Showtime | All Responsible Ages Permitted | Reserve Tables Online | PHOTO ID REQUIRED FOR ENTRY | *All tickets includes a Champagne Toast at midnight (21+)

The Burroughs' Moxi New Years Eve 2022 at Moxi Theater
with Special Guests

***Dress to Impress***
General Admission: $25
VIP - Reserved Seating*: AVAILABLE ONLINE ONLY
*VIP includes Reserved VIP table, VIP Hors d'oeuvres

@ The Moxi Theater
Upstairs // 802 9th St.Greeley, CO 80631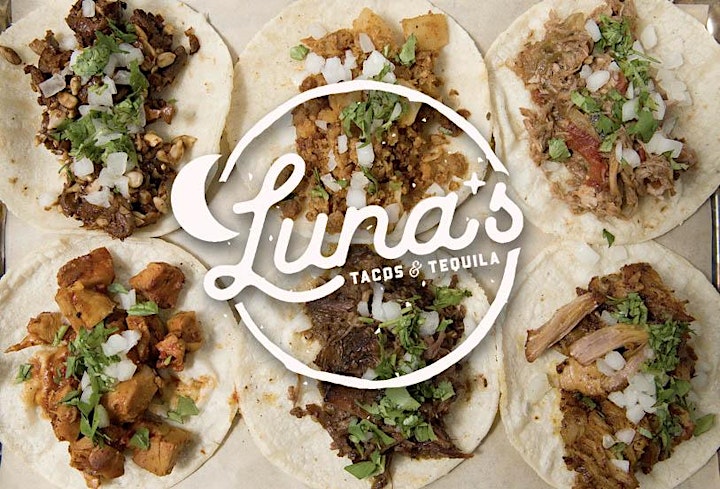 The Moxi Theater is proudly partnered with Luna's Tacos & Tequila in Downtown Greeley. Luna's is located at 806 9th St. - next door to the Moxi and is open for Dinner, Happy Hour, and Late Night. Luna's is the perfect place to eat and drink before or after the show!




Stella's Pinball Arcade & Lounge is Now Open in the basement of the Moxi. Get your game on at Stella's directly beneath the Moxi before the show. Now serving Burgers, Apps, Cocktails, Icee's, and fun for all ages. Open 6 days a week!

Artists
The Burroughs
The Burroughs
Steeped in classic soul standards and outfitted with modern flair, The Burroughs are a nine piece band with a powerhouse sound that has been electrifying audiences across Colorado and beyond. Since 2013, the band has lit up stages with their trademark brand of "Sweaty Soul Music," quickly earning their rightful place as one of the best live bands in the region.
The Burroughs' upcoming full-length studio album, Got To Feel, harnesses the energy of their live shows and combines it with thoughtful songwriting and superb musicianship to culminate in a new sonic frontier for the band. Produced and engineered by Colin Bricker of Mighty Fine Productions in Denver, CO, the album is due for worldwide release on January 9, 2018. "In many ways, this is a coming of age album for the band," says Johnny Burroughs, lead vocalist and bandleader. "The identity of the band has finally come into focus as we have discovered who we are and locked in our sound."

Got To Feel thematically explores the ups and downs of navigating life and relationships amidst uncertainty, and finding clarity in a world full of noise. "In life we cannot always control the circumstances in which we live, or the emotions that we feel," explains Burroughs, "but we can choose who we are when faced with those situations. We can feel anger and frustration, but choose to not be defined by them."

No newcomer to uplifting spirits, Johnny Burroughs works as a licensed minister and music pastor. His church upbringing serves him well on stage, where the red-headed frontman sings, dances, and screams audiences into a revival-like frenzy. His dynamite backing band includes a sizzling 4 piece horn section and tight 4 piece rhythm section that are as versatile as they are fun to watch. The band's live performances are capped by choreographed dancing, soaring solos, and funky grooves, with the goal of moving the audience to a joyful celebration by each show's closing tune.
Photo Courtesy Of Bohemian Nights New West Fest
The Burroughs have played prestigious festivals and venues including Bohemian Nights New West Fest, The Block Party, The Greeley Blues Jam, Boulder International Film Festival, The Fox Theatre, Denver Day of Rock, The Aggie Theatre, The Underground Music Showcase, Ophelia's Electric Soapbox, and The Fort Collins Music Experiment. The band has shared the stage with national acts that include The Steve Miller Band, ZAPP, The Dirty Dozen Brass Band, Orgone, The Reminders, Southern Avenue, Lil' Ed and the Blues Imperials, Walter Trout, and Samantha Fish. Previous recorded releases include the single "You Are My Joy," and b-side "1968"; and the full-length live album Sweaty Greeley Soul (Bandwagon Records), recorded live at the Moxi Theater.
Since the band's start, The Burroughs have always embraced their hometown of Greeley, Colorado, with a passion for community outreach. Previous partnerships have amplified the work of great organizations like the Weld Food Bank, Greeley Boys and Girls Clubs, and Habitat for Humanity. The band's latest mission is an ongoing partnership with Greeley-Evans District 6 Schools to bring music education to students of all backgrounds. Providing music clinics and joint performances with high school bands around their city, The Burroughs hope to inspire the next generation of musicians to find a career path in music.

The Burroughs are:

Alec Bell - Trumpet
Briana Harris - Alto Saxophone
Hayden Farr - Baritone Saxophone
Jeremy Fallis - Trombone
Brian Claxton - Bass
Mary Claxton - Drums/Vocals
Sean Hagemeister - Guitar
Tom Amend - Keys
Johnny Burroughs - Vocals
Photographer: Talia Lezama
Press Photos by Talia Lezama
Live Photos by Talia Lezama and Backstage Flash