BandWagon Presents
with
Dante Elephante • One Flew West
The Coast
@ 7:00 pm
All Ages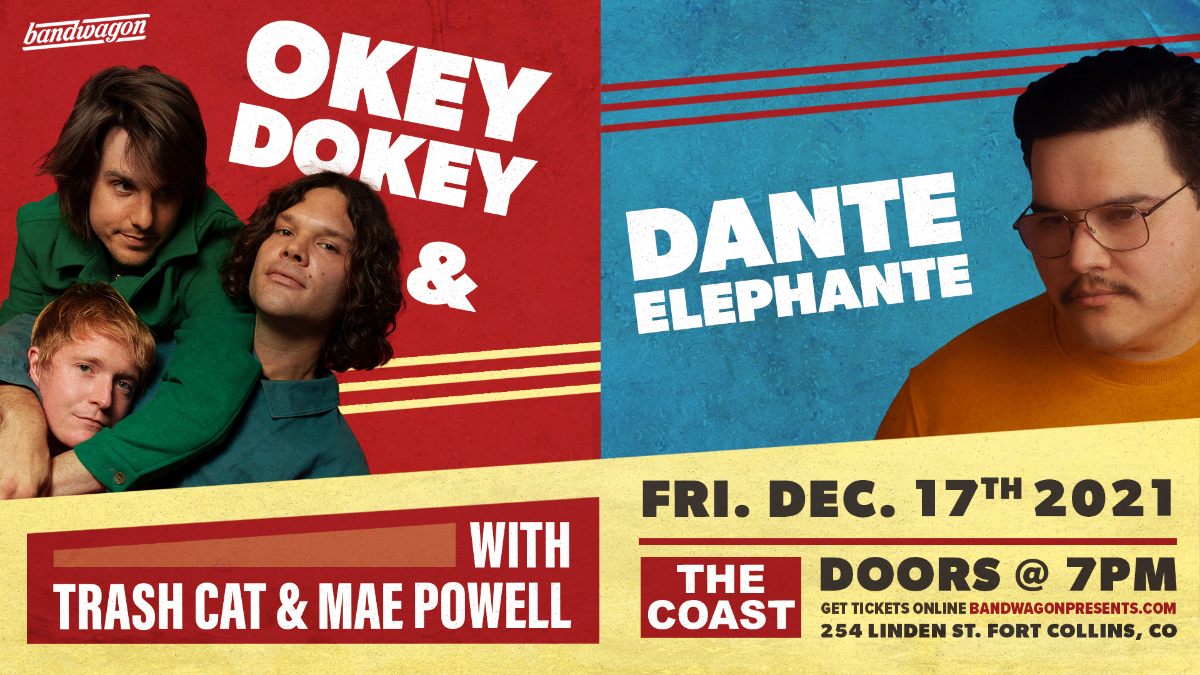 Additional Info
Live in concert at The Coast
254 Linden St. Ft Collins, CO 80524

All Responsible Ages Permitted
*PHOTO ID REQUIRED FOR ENTRY
The Coast is NOT requiring masks for guests, nor are we requiring proof of Vaccinations or negative Covid tests. Please stay home if you are feeling sick or have been recently exposed to someone not feeling well. Any additional questions should be directed to
info@bandwagonpresents.com
Artists
Okey Dokey
Okey Dokey started as a passion project between two friends to create art that could withstand the test of time. Over the years, the band grew frustrated with the distance between themselves and their listeners. The listener being as essential as a tree is to its fruit. The artist equally so to the listener. What are veins if there is no blood to pump? What are beliefs with no thought? If Okey Dokey were to remain just a band, would the fruit still be as sweet? Would the body's limbs still be equally filled with blood given the wall of separation between the artist and listener? The band decided to remove the separation and become something new. No longer shall there be two, but one. One community with one pulse all trusting in the higher powers harnessed by Okey Dokey. Join today and become part of one of the fastest growing communities in North America.
One Flew West
One Flew West formed in Longmont, Colorado in 2010. Since relocating to Denver, their brand of folk-influenced rock has regularly earned them a place amongst Colorado's most popular up and coming bands. In 2014, the band placed in the Top 3 of KTCL Channel 93.3's Hometown for the Holidays competition, and played the station's annual Keggs and Eggs concert the following spring. In addition to that, OFW was also part of 93.3's Big Gig at Fiddler's Green Amphitheatre and was named a "Band to Watch For" by CBS Denver in 2016.

One Flew West has performed with many notable acts such as The Dirty Heads, 3OH!3, The Wombats, The Devil Makes Three, Cold War Kids, Saint Motel, Passion Pit, Saints of Valory, The Spill Canvas, Highly Suspect, Trampled By Turtles, The Wild Feathers, Brick+Mortar, and From Indian Lakes.