BandWagon Presents
with
The Timberline • Mike Morris and Josh Gonzales
The Lincoln
@ 8:00 pm
All Ages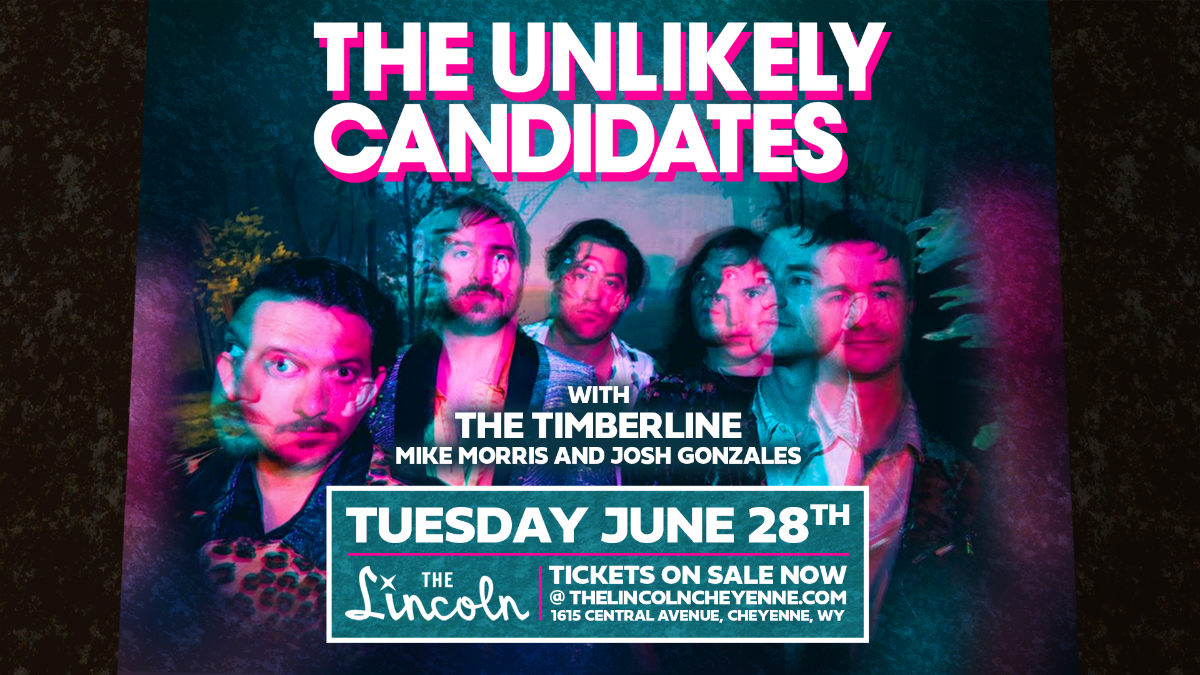 Additional Info
One listen to The Unlikely Candidates, and it's clear that the Fort Worth, TX alternative rock mavericks create their own scene. One song vaults from stadium anthem into a piano ballad, while the next twists from syncopated singalong into a contemporary grunge-influenced pop song. Hailing from Texas, the boys immediately separated themselves since uniting in high school. Breaking from the typical musical traditions associated with the Lone Star State, they turned up with an alternative style of their own. They challenged the status quo and carved out their own niche in Fort Worth. No matter where they are, they've clung to a sound that's simply The Unlikely Candidates. The band has logged countless miles on the road alongside everyone from Cage The Elephant, Sublime with Rome, The Offspring, Young The Giant, The Dirty Heads, Fall Out Boy, and Brick + Mortar. As they've grown as a band, the boys have earned acclaim from the likes of The New York Times, AXS, Esquire, Nylon, Alternative Press, Baeble, and more. Additionally, the band's music has been featured on Hulu's Veronica Mars, Showtime's Ray Donovan, ABC's American Idol, FOX's The Four, NFL's Super Bowl 2018 playoffs, and ESPN's 2018 Indy 500. The truth is, with steeple-vaulting vocal acrobatics and fiery falsetto's, combined with heavy-hitting synth melodies, undeniably catchy lyrics, and feel good beats, The Unlikely Candidates' sound is still too big and bold for any scene.
Artists
The Unlikely Candidates
Based out of Fort Worth, Texas, The Unlikely Candidates are an indie rock band initially formed as an acoustic duo by childhood friends Kyle Morris and Cole Male in 2008. Eventually expanding the lineup to include guitarist Brenton Carney, bassist Jared Hornbeek, and drummer Kevin Goddard, the band was also able to expand its sound in bigger, more sweeping directions. In 2013, the band signed on with major-label Atlantic and released their debut EP, Follow My Feet. In early 2016, the Unlikely Candidates returned with a hooky new single in "You Love Could Start a War," which made a strong showing on Billboard's Alternative Songs chart.
The Timberline
The Timberline is a modern rock band with pop-punk influences who have shared the stage with incredible acts such as DREAMERS and Rick Springfield. Through catchy melodic riffs and soulful lyrics, band members Terran Hause, Clint Petrun, and Mike Boschert released their first full-length record, Faulty Wires, on July 12 of 2019 followed directly by a CD Release Show at the Aggie Theatre.
Mike Morris and Josh Gonzales