BandWagon Presents
The Black Buzzard at Oskar Blues
@ 8:00 pm
Ages 18 and Up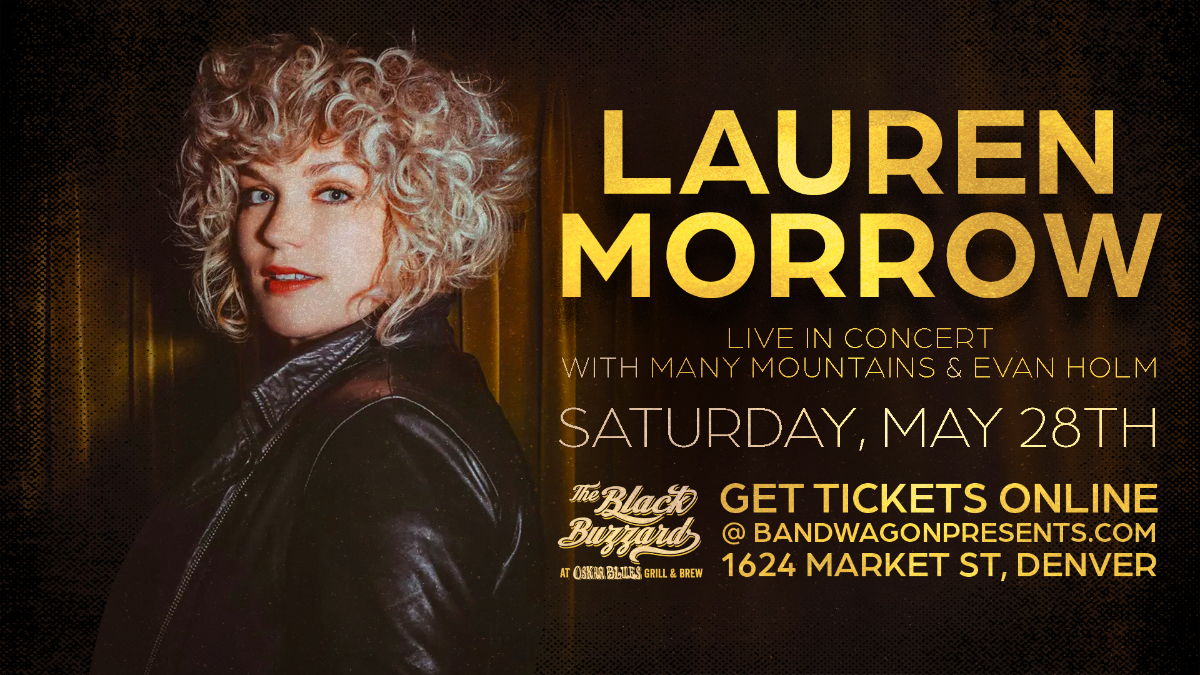 Additional Info
With a high-octave range and a Georgia drawl, Lauren Morrow isn't here to sing a love song — she's here to tell a story. And though she might be new to Nashville, she's already paved her way as one of the city's most promising artists. You might know her as the crown jewel of The Whiskey Gentry, who have toured with Three Dog Night, Cracker, and Butch Walker, appearing on festival bills like Shaky Knees, MerleFest, and Bristol Rhythm & Roots (to name a few). In late July 2017, Morrow and her husband Jason travelled to Nashville to play Oh Boy Records' John Prine Tribute night, and after witnessing the supportive music community that Nashville had to offer, Lauren and Jason, also a member of The Whiskey Gentry, decided it was time for a change. Hightailing it back to Atlanta, they quit their jobs, packed their things, listed their on house on the market, and didn't look back. Once settled into their new home in East Nashville, they shifted their focus to a new project, simply called Lauren Morrow. Less than a year later, Morrow landed in Creative Workshop's studio with producer/engineer Parker Cason to create her self-titled solo debut. The four song EP not only showcases Morrow's flawless vocals and intricate songwriting, but her willingness to take risks — an edge that makes her stand out from the Nashville norm.
Artists
Lauren Morrow
WHAT PEOPLE ARE SAYING ABOUT LAUREN MORROW
"Top Ten Country Artists to Watch in 2020." - Paste Magazine
"With her self-titled solo EP, Morrow has struck out on her own, debuting four songs that showcase her tender songwriting and inward-looking artistic vision." — Rolling Stone
"Lauren Morrow—known best as one-half of Nashville-by-way-of-Atlanta duo Whiskey Gentry—puts lyrical fire behind a classic country sound on her four-song solo debut." — Garden & Gun
"As she starts a new era of her career, she needs something to advantageously represent herself that isn't The Whiskey Gentry, and this is what she accomplishes with these four songs. But most importantly, these four songs are really good." — Saving Country Music
After over a decade as the centerpiece of popular Americana band The Whiskey Gentry, Lauren Morrow packed her bags, her dogs, her cats, and husband and moved to Nashville to pursue a career as a solo artist and grow her craft as a songwriter and performer. Within months, she released her first solo EP to widespread critical acclaim and landed on many Best of 2018 year ends lists from Rolling Stone to Garden & Gun, quickly launching her already budding career and sending it into hyperdrive. Over the next year, Morrow filmed an episode for PBS' Bluegrass Underground and toured the US playing festivals such as Pickathon and Bristol Rhythm & Roots to name a few. In November 2019, Morrow began recording her first solo, full-length album at the legendary Nashville studio, Sound Emporium. Set to release in 2020, Morrow's new album showcases her flawless vocals and intricate songwriting, but also her willingness to take risks — an edge that makes her stand out from the Nashville norm. Whether she's singing an alternative/indie rock banger, a classic-country cooner, or a traditional lovesick ballad, there's a unique impression she leaves that lingers and is unlike anything you've heard before.