BandWagon Presents
with
Silver & Gold • Trash Cat • Co-Stanza • Lauren Morrow • Wolfblitzer • Pie Lombardi • Nightwaker • Remedy • Johnny Day • Wolfblitzer • Jonah Ausbun • Young Habitat • Sean Kennedy • Jellyfish Farm • Mary & Brian Claxton • 2/3rds Topher • Julie Koenig • Magpie The Band • Bekkah Jean • Bootleg Emulator • Nora Landy
Moxi Theater
@ 6:00 pm
All Ages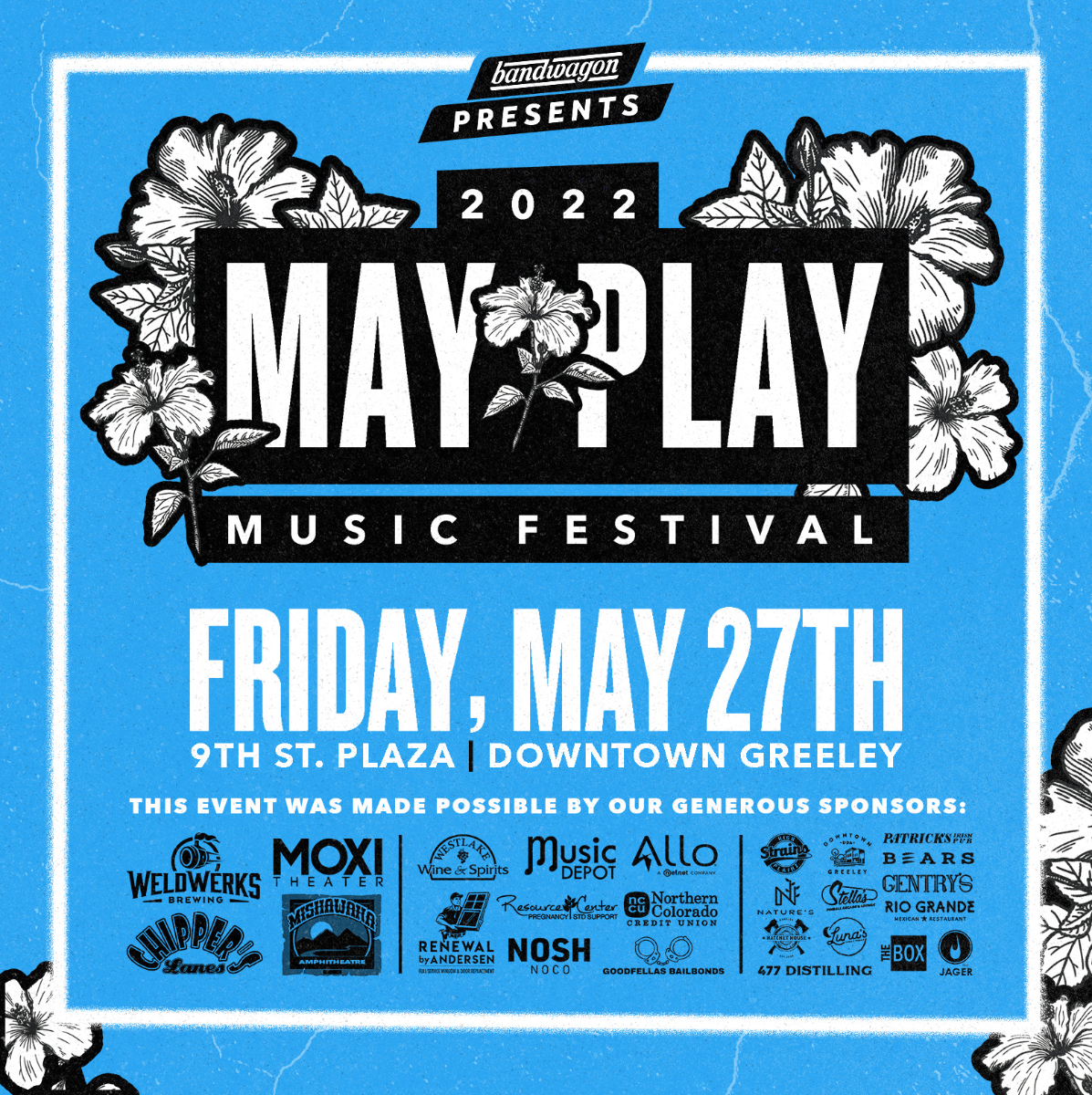 Additional Info

May Play Music Festival is Back Live and In-Person!

Join us Friday, May 27th, 2022 as BandWagon, WeldWerks, Chipper's Lanes & Mishawaka Amphitheatre, Moxi Theater, and the Greeley Downtown Development Authority welcome back this annual 'Friday Fest' kick-off Event! Cordovas from Nashville, TN will be headlining the main stage. Local favorites Silver & Gold, Trash Cat, along with some of the best regional talent in the area round out the bill this year.

Admission to the May Play is Free.
This festival is FREE for ALL attendees, including the main stages on the plaza and the headline event and Moxi.

The capacity for the Moxi Theater will be limited to 360, as such, there is no guarantee of entry. The ONLY way to guarantee entry is by purchasing a reserved table. General Admission tickets do not assure entry. Come by early to enjoy all the festivities that May Play Music Festival 2021 has to offer!
Stay tuned to our Facebook page for artist announcements!
May Play Music Festival is made possible by our generous sponsors:

Artists
Cordovas
The Cordovas are Joe Firstman, Lucca Soria, Jon Loyd, and Graham Spillman. Based in Nashville, TN, Cordovas' sound is rooted in harmony, songwriting and musicianship. Firstman released two albums on Atlantic Records in the early 2000's, including the acclaimed War of Women. 24-year-old songsmith, Des Moines' Lucca Soria writes, sings, and plays lead guitar. He has several compositions on the forthcoming Cordovas album. Keyboardist Jon Loyd, a native of Macon, GA, sings high notes and possesses a piano style that makes the bands sound at once recognizable and unforgettable. Born in Redondo Beach, California, Graham Spillman is on drums. The 25-year-old Berkeley College of Music drop out also sings and pens tunes for the group. Cordovas will release a new full length album produced by two-time Grammy Nominee Kenneth Pattengale, of Milk Carton Kids, Spring 2017. Jamie Ruben, Nashville legend and owner of the storied music venue, Family Wash, says of the band, "They're fantastic! Beautiful and real music, a rarity these days." Long time booker, Tom Bianchi of Boston's, The Burren, says, "Easily one of the best bands we've had in 20 years."
Silver & Gold
Silver & Gold is the best band you've never heard of. With an original sound and a stellar live show to match, the band released their debut EP, Compression, on October 31st, 2014. One year later they released the Headed West EP, a 2-track EP produced by Chris Beeble at the Blasting Room Recording Studio in Fort Collins, CO on BandWagon Records to critical acclaim. The band is currently playing out and gearing up to go back into the studio with Brandon Whalen of My Body Sings Electric in 2016…
Trash Cat
Trash Cat uses their music to ride a see-saw between tender-heartedness and absurdity inspired by their favorite cartoons and pop culture.
Lauren Morrow
WHAT PEOPLE ARE SAYING ABOUT LAUREN MORROW
"Top Ten Country Artists to Watch in 2020." - Paste Magazine
"With her self-titled solo EP, Morrow has struck out on her own, debuting four songs that showcase her tender songwriting and inward-looking artistic vision." — Rolling Stone
"Lauren Morrow—known best as one-half of Nashville-by-way-of-Atlanta duo Whiskey Gentry—puts lyrical fire behind a classic country sound on her four-song solo debut." — Garden & Gun
"As she starts a new era of her career, she needs something to advantageously represent herself that isn't The Whiskey Gentry, and this is what she accomplishes with these four songs. But most importantly, these four songs are really good." — Saving Country Music
After over a decade as the centerpiece of popular Americana band The Whiskey Gentry, Lauren Morrow packed her bags, her dogs, her cats, and husband and moved to Nashville to pursue a career as a solo artist and grow her craft as a songwriter and performer. Within months, she released her first solo EP to widespread critical acclaim and landed on many Best of 2018 year ends lists from Rolling Stone to Garden & Gun, quickly launching her already budding career and sending it into hyperdrive. Over the next year, Morrow filmed an episode for PBS' Bluegrass Underground and toured the US playing festivals such as Pickathon and Bristol Rhythm & Roots to name a few. In November 2019, Morrow began recording her first solo, full-length album at the legendary Nashville studio, Sound Emporium. Set to release in 2020, Morrow's new album showcases her flawless vocals and intricate songwriting, but also her willingness to take risks — an edge that makes her stand out from the Nashville norm. Whether she's singing an alternative/indie rock banger, a classic-country cooner, or a traditional lovesick ballad, there's a unique impression she leaves that lingers and is unlike anything you've heard before.
Pie Lombardi
Pie Lombardi is a singer/songwriter in Greeley, Colorado. Known better as the guitarist of Northern Colorado's Silver & Gold, Lombardi has signed a ontract with Bandwagon Records as a solo artist.
An upcoming Split EP release with Little Lights is expected to release April 13th, 2017
Remedy
We're a Hard Rock Band Born in Northern Colorado.
Saving lives one song at a time.
Johnny Day
Johnny Day was born in Kersey, Colorado, but is now a Nashville-based country artist. Day is an independent artist, completing his first record.
Sean Kennedy
Sean Kennedy is known best as the singer of the alternative rock group, Tickle Me Pink. The band rose to fame in the late 2000s when 'Typical' recieved radio airplay. The group was also featured on MTV, the video game Rock Band, and scored an opening slot on tour with Hawthorne Heights.
Kennedy's latest project is Brite Skye.