BandWagon Presents
The Black Buzzard at Oskar Blues
@ 8:00 pm
Ages 18 and Up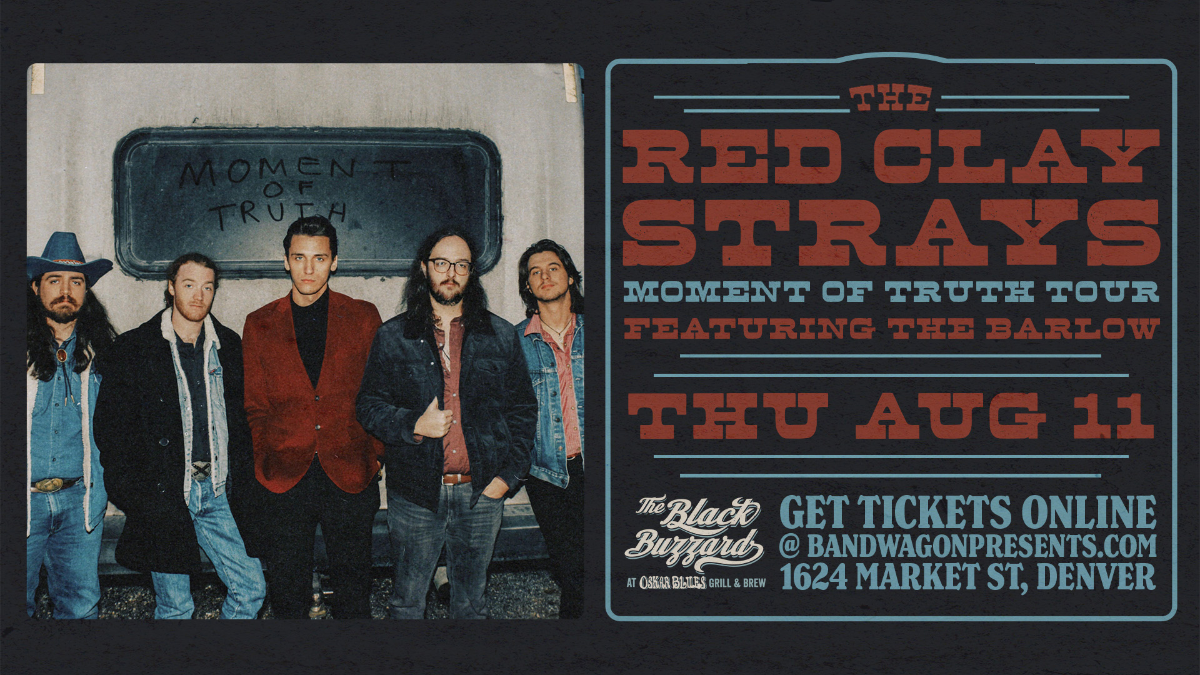 Additional Info
The Red Clay Strays are a rock and roll band from south Alabama. With influences ranging from Johnny Cash, Lynyrd Skynyrd, Jerry Lee Lewis and Waylon Jennings to southern gospel, they blur the line between country and southern rock while bringing an authenticity that defines who the Red Clay Strays are as a band. Their debut album "Moment of Truth" reflect that unique sound as well as the high energy that's found in their live shows. "Moment of Truth" drops April 28th. Listen to their single from the album "Doin' Time" now. The Red Clay Strays are Brandon Coleman: lead vocals, guitar; Drew Nix: vocals, electric guitar, harmonica; Zach Rishel: electric guitar; Andrew Bishop: Bass and John Hall: drums.
Artists
The Barlow
Colorado Country. That's the sound The Barlow has been making since 2017, combining Red Dirt, Americana, outlaw country and guitar-heavy Southern rock into songs that are as rugged as the band's Denver home. Two years after releasing their self-titled debut album, bandmates Shea Boynton, Ben Richter, Brad Johnson, and Troy Scoope are back with 2021's Horseshoe Lounge. Produced by The Barlow and featuring guest appearances by members of Mike and the Moonpies— whose front man Mike Harmeier contributes vocals on the album-closing track "Part of the Band" and whose pedal steel guitarist, Zachary Moulton, plays throughout the record Horseshoe Lounge is the sound of a band mid-stride, confidently walking down its own lane. The new album also shines a light on the chemistry generated by a touring schedule that's kept The Barlow on the road, playing shows throughout West Texas, New Mexico, Nebraska, Wyoming, and the band's native Colorado. Along the way the group has shared the stage with Mike and the Moonpies, Sunny Sweeney, Ward Davis, The Steel Woods and other acts who, like The Barlow, straddle the line between classic and modern country.
According to the band, "This album is intended to be a blue-collar record aimed at fans of all genres. We're excited about the evolving songwriting, performance, production, and overall personal growth of the band. We have all been friends since high school and it's the record we've always wanted to make. Bootstrapping this record has been rewarding and we're grateful for the work and process." Horseshoe Lounge showcases the sharp songwriting of front man Shea Boynton. An oil-field worker during his time offstage, Boynton fills the album with a mix of autobiography and character studies, often sourcing his writing inspiration from those around him. He isn't just telling his own story; he's writing other people's stories, too. Boynton's songwriting chops are adeptly complimented by Brad's guitar work/vocals, with bass work and drums/vocals provided by Troy and Ben respectively. The quartet's contributions meld perfectly, much like whiskey chased by cold beer over a game of darts on a Saturday afternoon. Meanwhile, a well-placed cover of Chris Knight's "Homesick Gypsy" proves The Barlow has good taste when it comes to material written outside of the band, as well.