BandWagon & Qoncert Presents
with
Flow Mane • Fozzy Stylez Frosty • Swagyu • Odd Prodigy • Comman Kitty
Lulu's Downstairs
@ 8:00 pm
All Ages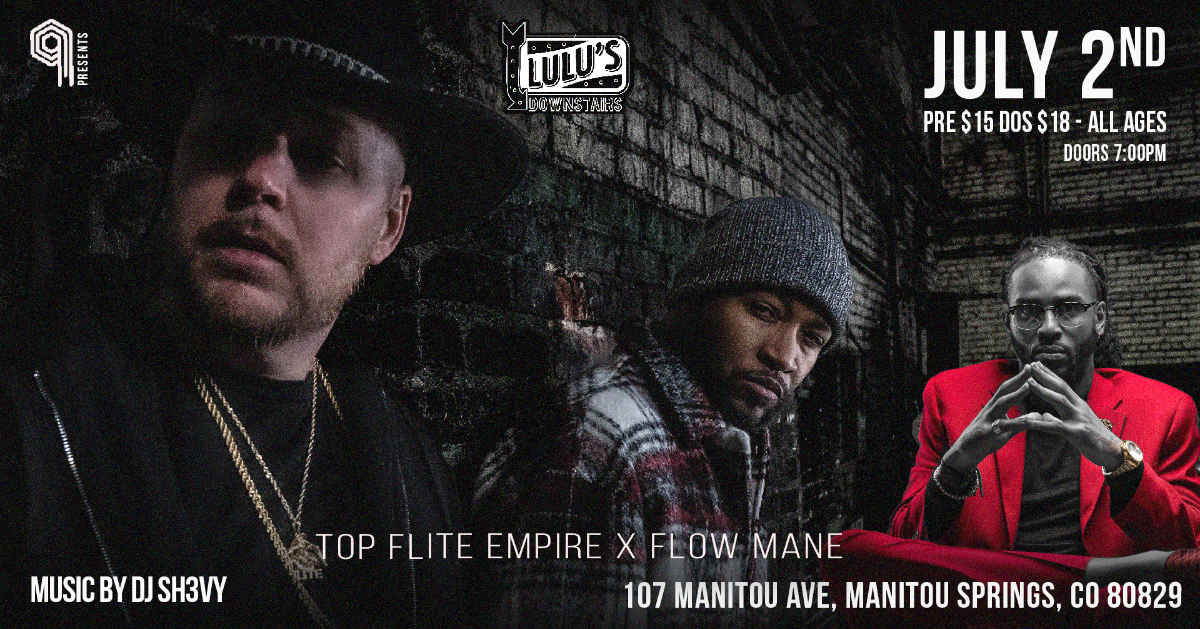 Additional Info
Mid-West natives, Top Flite Empire is comprised of King Tef and Hypnautic. Notably one of Denver's most well-known, successful hip-hop groups in the region. Unsigned and still able to chart #9 on iTunes and #1 on Billboard Heatseekers, land major placements on Netflix and sell out shows all over their region. Their backgrounds, stories, talent, and drive draw fans in and give them something to relate to and enjoy — something that takes them to a better place no matter what they're dealing with in their lives.
Lulu's Downstairs is operating at Full Capacity
Reserve a Booth in Advance Online.
All Responsible Ages Permitted
*PHOTO ID REQUIRED FOR ENTRY
Artists
Top Flite Empire
Hip Hop duo King Tef and Hypnautic complete the all-star rap group Top Flite Empire. Originating in the mid-west region of the United States, Littleton and Colorado Springs (Colorado), both individuals have succeeded in topping national music charts against all odds. Without the help of a label, instate, or national media outlets, the group hit number nine on iTunes out beating Drake for a week. As well as number one on the Billboard Heatseakers for the debut of their album, Bad Decisions w/ features from Futuristic, Nef the Pharaoh, King Los, Problem and more.

Facing adversities such as being a black and white combo in the rap game, which is relatively never heard of, has become the norm. Especially in a time where society has been tempestuous racially. Separately, King Tef is a stage three cancer survivor, who beat Wilms Tumor at just a young age. The star started rapping because of the death of his brother whom passed the torch on to him.

Hypnautic, an ex-drug dealer changed his path after the suicide of his best friend by focusing and tuning his energy into music, and utilizing his hustle skills for something positive . During the time of the release of their album Bad Decisions, Hypnautic's son was diagnosed with Idiopathic Aplastic Anemia, which has similar side effects as leukemia. King Tef's mother had her last endovascular coiling procedure during this time as well. Through the hardships, this pair cannot be stopped. Without the help from a label or the attacks from the grim reaper, they took their bad situations and turned them into great ones through music. Top Flite Empire has proved their stardom, and with the support of their fans, will undoubtfully continue to top the charts.