BandWagon Presents
with
Ben Danaher • Kyle Moon & the Misled
The Black Buzzard at Oskar Blues
@ 8:00 pm
Ages 18 and Up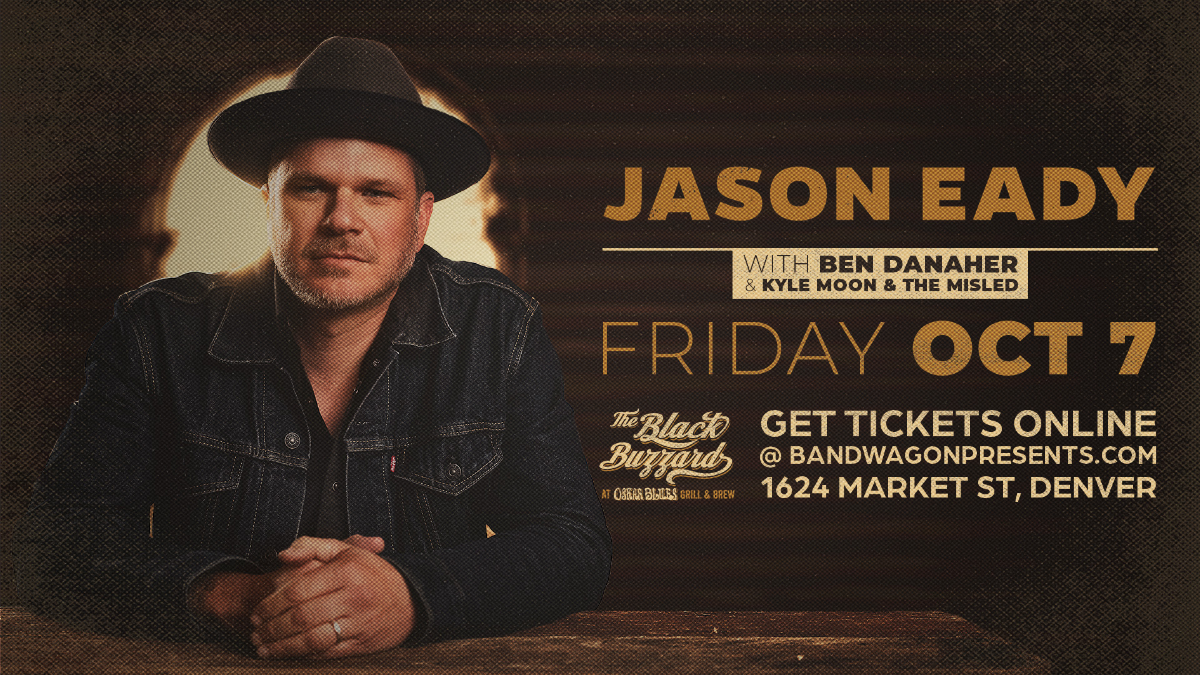 Additional Info
Since making his auspicious debut with 2005's From Underneath the Old, Jason Eady has achieved a rare balance of unguarded honesty and poetic sophistication in his songwriting. On his timely new single "Back to Normal," the Fort Worth-based artist shares a hard-driving track that's both pragmatic and subtly hopeful, again revealing his gift for turning uncomfortable truths into songs with a potent impact.
His first new music since I Travel On, "Back to Normal" offers an urgent uptempo meditation on the inevitability of change. "I wanted to write about how, when things get disrupted, you can never really return to the way they were before," says Eady. "No matter how big or small that disruption is, you have to accept that change is a fundamental part of life, and just keep moving forward."
Produced by Gordy Quist of Band of Heathens, "Back to Normal" came to life at The Finishing School in Austin. "I sort of handpicked the band from all my favorite players around Austin that I've met over the years," says Eady, who enlisted Geoff Queen (on lap steel), Noah Jeffries (mandolin), Brian Ferguson (drums), and Mark Williams (bass). Also featuring powerful harmonies from singer/songwriters Jamie Lynn Wilson and Courtney Patton (Eady's wife), "Back to Normal" was recorded live with no overdubs, an approach that greatly intensifies its raw vitality. "Everything you hear is exactly what happened when we hit record—there's no studio trickery," says Eady.
Artists
Kyle Moon & the Misled
Kyle Moon & the Misled is an Americana/Cosmic Country outfit (Denver, CO and San Antonio, Texas) Kyle Moon & the Misled is an Americana band that have honed their craft of writing honest, relatable stories about their own real life experiences of the American Middle Class. By splitting their time between Texas and Colorado they are following in the footsteps of Texas songwriters such as Townes Van Zandt & Doug Sahm with a sound that is equal parts Texas Outlaw Attitude and Laid Back Southwest Swagger. Now, with the release of their third collection of recordings, "Miles Apart" they are exploring the sounds of Cosmic American Music and taking cues from modern Southwest Troubadours such as Charley Crockett, Vincent Neil Emmerson, and Nathaniel Rateliff. Stand-out tracks are;
"Day Drinking"; a hazy summer anthem about a weekend in a mountain town "Jason"; an ethereal and pensive ballad "Cold Eyes": a knock-down, drag-out dance hall banger