BandWagon Presents
with
Dead Man's Alibi • Soviet Mothers • Wicked Vixen
The Coast
@ 7:30 pm
Ages 18 and Up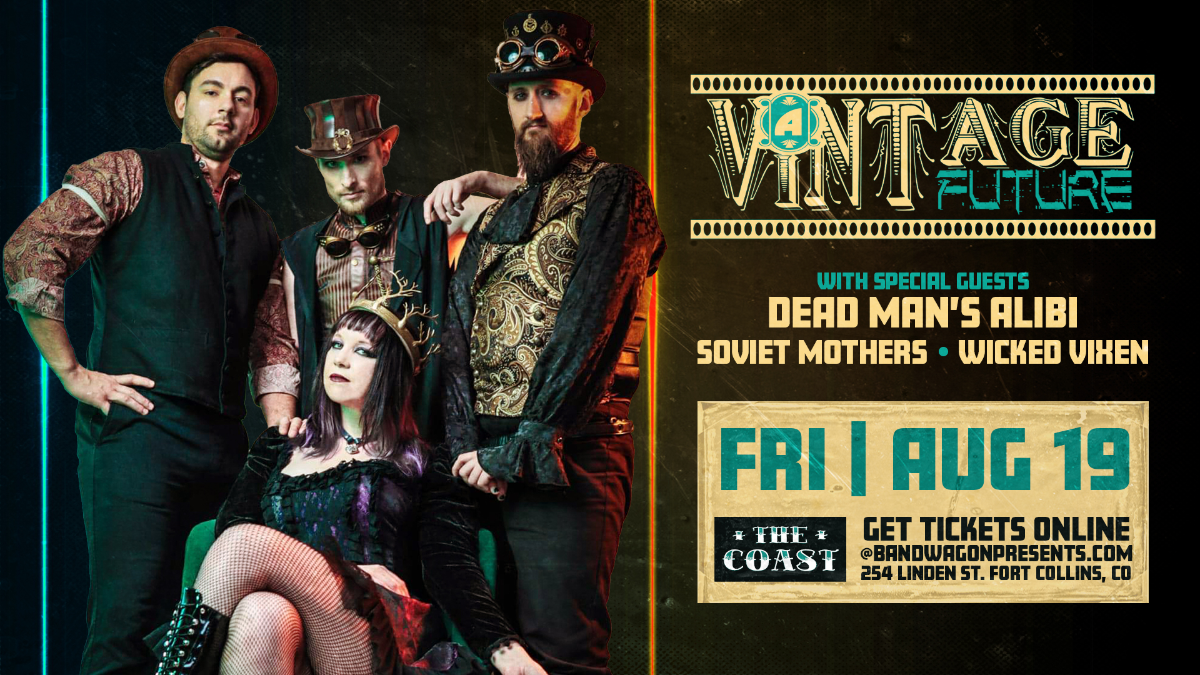 Artists
A Vintage Future
Your mind turns inside out as complex rhythms and powerful melodies cascade through your ear canal, taking you to a place where time becomes irrelevant and space consists of your own transcending plane of existence.

The music carries you through a nirvana of texture and seamless transitions, this is something new and old. A pop band from the future refined by the past. This is...

A Vintage Future
Dead Man's Alibi
Formed in the Winter of 2020, Dead Mans Alibi is a Hard Rock quartet from Northern Colorado, with a strong DIY ethos, and passionate love of the psychedelic rock music of the 1970s and 80s that their music draws its inspiration from.
Consisting of alumni members from notable Colorado and North Carolina rock acts, Dead Man's Alibi's music and live performances transport audiences back in time to an Era where simple, no frills rock and roll reigned supreme on the airwaves and on the minds of the public that tuned in.
Establishing themselves as a strong up and coming act, this is a group you don't want to miss.
Soviet Mothers
Soviet Mothers was formed in late 2015 in Fort Collins Colorado by founding member Paul Rogers. Building on its fundemental blues and stoner rock foundation, Soviet Mothers has created a more refined rock sound akin to groups such as Queens of the Stone Age and Foo Fighters. Their spacey, riff heavy guitar rock, creates a musical landscape that brings to mind images of the vast empty expanse of the western deserts