BandWagon Presents
with
Ploom • Bryce Menchaca
The Black Buzzard at Oskar Blues
@ 8:00 pm
Ages 18 and Up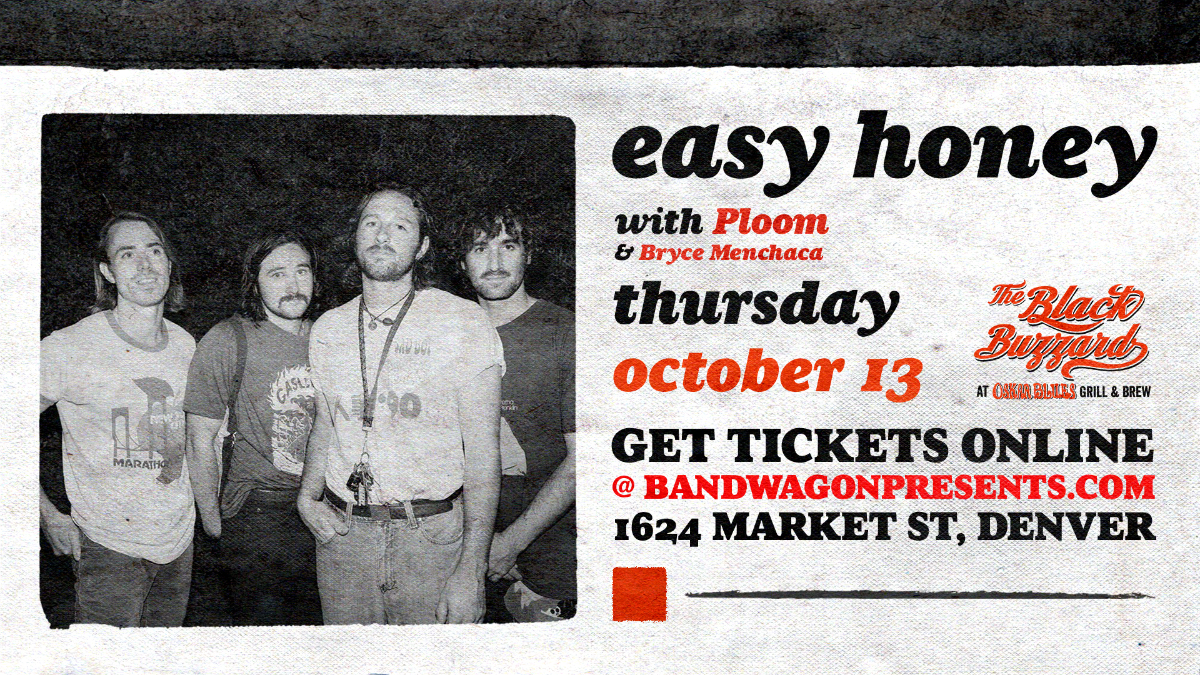 Additional Info
Easy Honey has blossomed since the band's inception in a basement in Sewanee, TN. The band infuses its psychedelic folk roots with East Coast surf-rock, not only thriving in the indie rock scene, but the jam scene as well. Their witty melodies, dotted with catchy hooks, offer up a lyrical ballad of nostalgia.The band's latest single, Steady in Vertigo, landed itselfon numerous popular playlists, and will be followed by continued releases.

Drawing inspiration from the originality and attitude of The Kinks, The Replacements, and Radiohead, Easy Honey places great importance on finding new ways to express the fantastical and mundane alike. The college friends have rejected the likely path of order to seek rather a Tolkien level of adventure in experience through life on the road, bringing a raucous yet sentimental live show on tour with them while sharing their thoughtfully written songs.

Co-frontmen Darby McGlone and Selby Austin share writing and singing duties, while Charlie Holt and brother Webster Austin provide a tight, powerful rhythm section. The band lives in Charleston, SC, leading the way in the music scene, spreading the city's name across the U.S.
Artists
Easy Honey
Herein lies yet another band bio. I know what you're thinking. "So familiar. So predictable." 
 You're probably bored on an airplane right now. Reading this instead of "Sky Flappers." If you think you'd be better off reading Joycean love letters, you may well be right. 
 But if it's a deeper connection to easy honey you seek - the Charleston-based indie rock band responsible for forging bangers that shake your little body to its core, then beg you, read on. 
 We are currently touring up the east coast of the United States in a Chevy conversion van. Nantucket tomorrow night, Stephen Talkhouse the next. 
 We have a sticker on the back of our van that says "Hungry Girl." Our license plate # is S0S-BJ69. If you see us, give us a wave. Buy us a gas station hotdog. Or just come say hey.