BandWagon Presents
with
Your Own Medicine • Ovira • Years Down
The Black Buzzard at Oskar Blues
@ 8:00 pm
Ages 18 and Up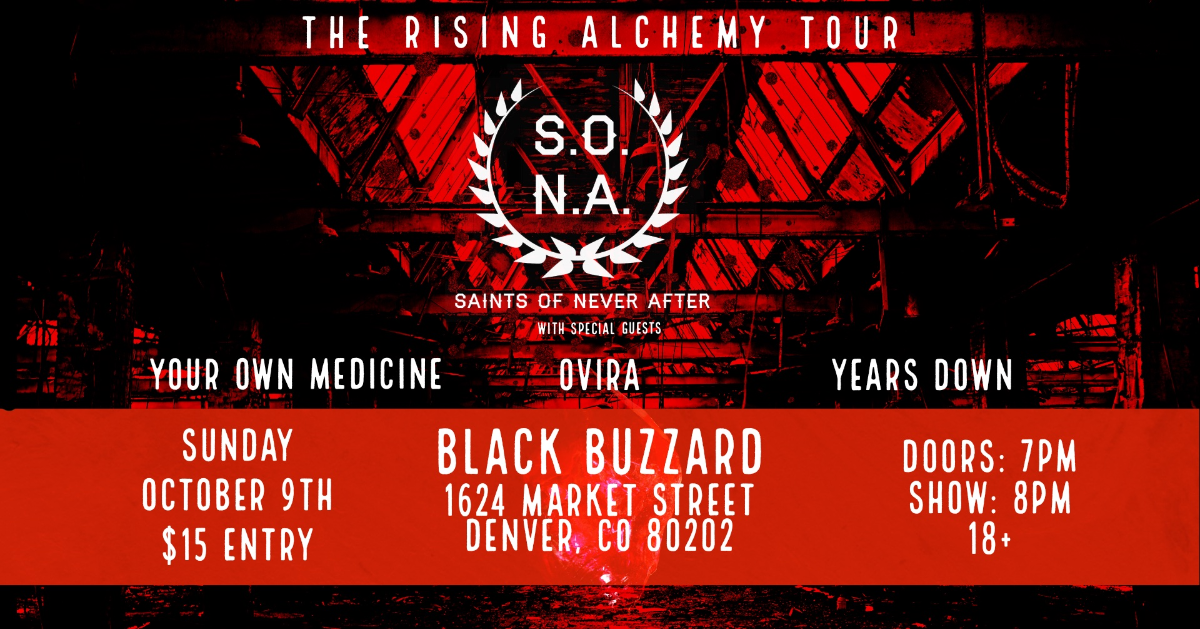 Additional Info
Saints Of Never After is a high energy Post-Hardcore band hailing from Fort Collins, CO. Since starting in August of 2015, Brian Robertson (Vocals), Jordan Persons (Bass), Nathan Lee (Guitar) and Preston Gray (Drums) have performed with many notable acts such as Escape The Fate, Silverstein, Sick Puppies, Tonight Alive, I Set My Friends On Fire, Secrets, The Red Jumpsuit Apparatus and many more. With their fans, determination and drive on their side, they look forward to delivering some of the most incredible live performances you've ever seen, as well as some of the most passionate and jaw dropping songs of a lifetime. 
 Be sure to follow us on all social media platforms and come out to a show! Thank you for your love and support. God Bless.
Artists
Saints Of Never After
Saints Of Never After is a 5 piece Post-Hardcore / Punk band from Northern Colorado...

Formed in early August 2015 through various Band sites, Brian Robertson, Brenden Tharp, Jordan Persons, and Drew Claus, were all craving to form a band that would stand the test of time, while bringing something new to the scene. The band is now a strong 4 piece making their way to the top.

With influences in the music such as A Day to Remember, Escape the Fate, Atreyu, Avenged Sevenfold, Blink 182, Knuckle Puck, and Yellowcard, you definitely get a wide variety of sound from SONA that everyone can appreciate.

You can hear these various influences in songs like, "Mean to Me" from their first EP "Tentative". The EP was recorded at Chimaera Sound Studios in the summer of 2016 in Loveland, Colorado which showcases heavy aggressive tones and hard hitting rhythm's. Their latest releases, "Black Book" and "I Stand Alone" show off both sides of S.O.N.A.'s writing spectrum perfectly. Both Punk and Hardcore can be fused together and create what is the familiar sound known as, Saints Of Never After.

Since then S.O.N.A. has had the privilege to play various Colorado stages such as...
The Aggie Theater (Fort Collins, CO)
Summit Music Hall Main Stage (Denver, CO)
The Marquis (Denver, CO)
Summit's Moon Room (Denver, CO)
The Moxi Theater (Greeley, CO)
Phil's Radiator (Pueblo, CO)
Hodi's Half Note (Fort Collins, CO)
The Black Sheep (Colorado Springs, CO)
-- Out of State --
Trunk Space (Phoenix, AZ)
Muscle Car Ranch (Chickasha, OK)

S.O.N.A has shared the stages with some notorious CO bands such as AMZY, Silver & Gold, One Flew West, Tonight We Rise, and Valienta.
As well as National Acts like, Escape The Fate, TRAPT, Sick Puppies, Islander, The Anchor, Capsize, Shatterproof, Sink In, Knock Out Kid, and For The Win.

S.O.N.A.'s music can be found on iTunes, Spotify, Soundcloud and more! Make sure to also look them up on YouTube to see their many Music Video's that capture the live show quality, and the essence of each member's personality. S.O.N.A. is on the up and up!