Stella Rosa & BandWagon Presents
with
Ben Chapman • Meg Mcree
Beacon Club
@ 7:00 pm
Ages 21 and Up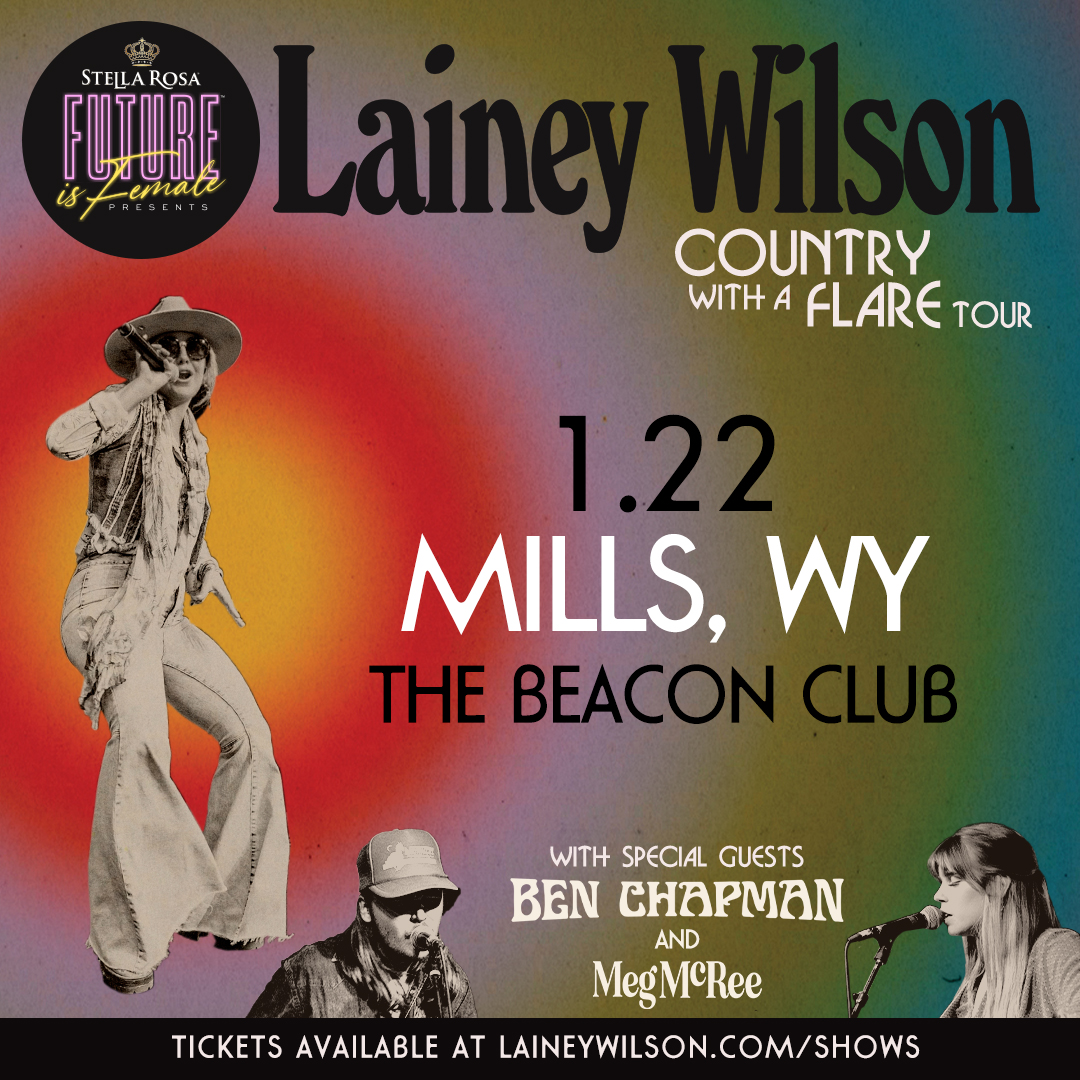 Additional Info
Lainey Wilson Pre-Show Experience $99
· Includes one general admission ticket
· VIP early entry into the venue
· Intimate pre-show stories behind the songs performance by Lainey Wilson
· Q&A session with Lainey
· Group photo with Lainey Wilson
· Collectible tour poster, autographed by Lainey
· Exclusive Lainey Wilson VIP merchandise item
· Commemorative pre-show VIP laminate
· Merchandise shopping opportunity before doors open to public
· Limited availability
Citi® Offers: Offers only available to Citi credit cardmembers and Citi Debit MasterCard customers. Enter the first 6 digits of your Citi credit card or Citibank Debit MasterCard account number (no dashes) located on the front of your Citi card.
Artists
Lainey Wilson
"One of Country music's most promising young stars," (Whiskey Riff) Lainey Wilson is the total package. Earning the enthusiasm of the industry, winning MusicRow's "Discovery Artist of the Year" award and being named as an "Artist to Watch" by Spotify, Pandora, The Boot, and Sounds Like Nashville (to name a few) and included in CMT's "Next Women of Country" and "Listen Up" programs, the Louisiana native is one of Nashville' most buzzed-about new artists, garnering early praise for her "unabashedly down-home and unflappably worldly" (NPR) style and exhibiting "just enough scars and pragmatism to write great, universal country songs" (Taste of Country). Her music has already been featured in the hit drama series Yellowstone three times, graced the Grand Ole Opry stage and was covered in publications like Forbes, Rolling Stone, New York Times, Billboard and NPR. With a rockstar stage presence, her artistry has taken her across the globe, performing for sold-out crowds throughout the US, UK, and Germany with notable names like Jason Aldean, Hardy, Justin Moore, Tyler Farr, Ashley McBryde, Randy Houser, Josh Turner and more.
The "vocalist of unmatched talent, humbled by her characteristic humor and wit," (American Songwriter) left her small farming community in a camper trailer to chase her dreams and has been carving her own unique place in the country music landscape ever since. Creating a sound and style all her own with "Bell Bottom Country," which blends traditional Country with a modern yet retro flare, Lainey is a fresh, fierce voice in Nashville. A prolific writer (having co-writer credits on songs by artists including Luke Combs), Lainey shares her feelings, stories, experiences and understandings through her music. Described as "a cross between easy listening and hard truths" by The Boot, Lainey's music (and character) is largely driven by her values and self-conviction. Her new album, produced by GRAMMY Award-winning mastermind Jay Joyce (Eric Church, Miranda Lambert), Sayin' What I'm Thinkin,' was released in February 2021 via BBR Music Group/ Broken Bow Records to incredible praise, with many labeling it as one of the best albums of the year. Following the sentiment of the title track, the entire album is rooted in authenticity, honesty and thoughtfulness—representative of Lainey's own character. The album includes her No. 1 radio single and "song every country fan needs to hear" (Taste of Country), "Things A Man Oughta Know." With more than 146 million streams, the song is a fan and critic favorite, spurring a flurry of activity across social media as well as included in "must listen" lists in publications like NPR and Rolling Stone.
Ben Chapman
Guided by the honky-tonk influence of Roger Miller, genre-blending enterprises of The Grateful Dead and the iconic songwriting of Guy Clark, Ben Chapman pairs groove-driven music with compelling, pitchy lyrics, offering his own effervescent take on Saturday night honky-tonk music.
From north Georgia, Ben's old soul and audiophilic tendencies have conducted his journey to Nashville, directing him from self-taught guitar lessons, through various gigs at the VFW and other cool little bars, to recently signing a publishing deal with hit-songwriter Hillary Lindsey's (Dierks Bentley, Little Big Town, Miranda Lambert) Hang Your Hat Music, a creative joint venture with Concord Music. It was here he met his publisher turned producer Jake Gear (Hailey Whitters, Flatland Calvary) whose initial belief in him as a writer proved to be well-founded with Chapman having established co-writer credit on all 13 tracks off his forthcoming debut album as well as landing cuts with other artists including Drake White, Davisson Brothers, Robert Randolph, Erin Enderlin, and more.
Following the release of Ben's debut single "Hippie Speedball" which "exhibits not only his strength as a candid storyteller but also his poise as a quickly emerging artist" (American Songwriter) Ben found himself on tour with The Marshall Tucker Band and Drake White following a handful of dates opening shows for fast-rising country, americana band Flatland Calvary. Coming into 2022 Chapman launched a year-long residency at The Basement called Peach Jam – a show hosted by Ben Chapman & Company on the 2nd Wednesday of every month featuring special guests from the community like Brent Cobb, Drake White, Lainey Wilson, and other impromptu jam guests like Daniel Donato. Released March 9th, Chapman's debut record Make The Night Better was christened by a sold-out Peach Jam followed by a sold-out hometown album release show at Songbirds Foundation in Chattanooga, TN. With every impression, Ben's music continues to find a reactive audience at live shows and on playlists including Spotify's Indigo and Apple Music's New Music Daily, Country Roads, New in Country, and Country Risers garnering 450k+ streams as well as radio play on WMOT's Roots Radio Local Brew hour and Wired In series.
Meg Mcree
After attending Vanderbilt University on a full ride, Meg McRee traded her newly earned degree for the pursuit of an unpredictable dream as a songwriter. McRee was validated as more than a driven idealist with the signing of her first publishing deal at Hang Your Hat, a creative joint venture with Concord Music Publishing and hit-songwriter Hillary Lindsey. Since, she has had songs cut by Grace Potter, Elle King, Caylee Hammack, Paul Cauthen, Carter Faith, Ben Chapman and others. Meg recently released the first track "A Lot to Say" off her debut project as a songwriter turned artist, with a full album coming in early 2023.