BandWagon Presents
with
Corsicana • Juno Rossa
The Black Buzzard at Oskar Blues
@ 8:00 pm
Ages 18 and Up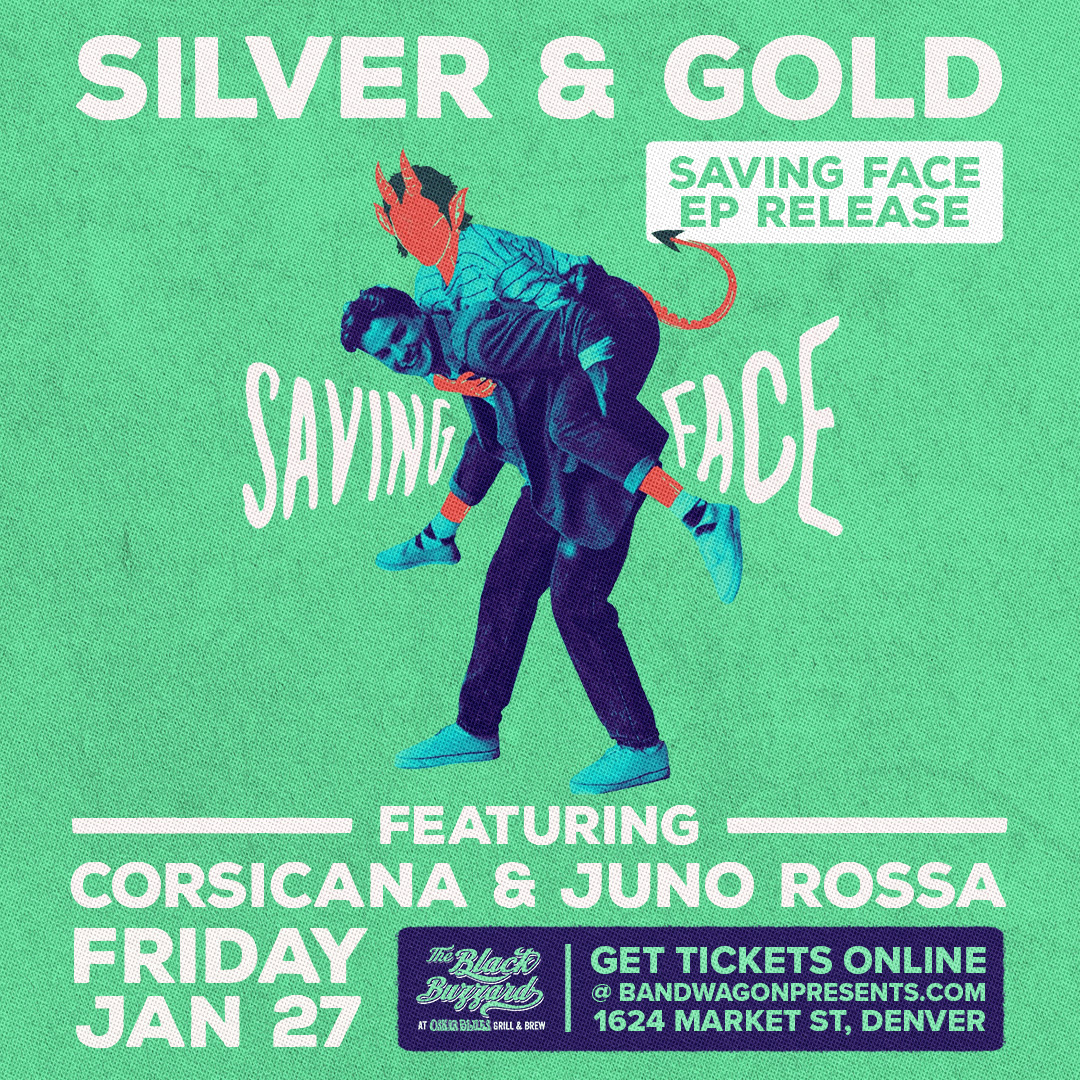 Additional Info
Silver & Gold, originally from Northern Colorado, has been creating energetic indie rock in the Denver music scene since 2013. Meeting as music majors in college, the 5-piece band sought out ways to explore their wide range of music backgrounds to create something of their own. Every song is emotionally driven, yet composed to get everyone on their feet.
Silver & Gold has shared the stage with many sold out acts like Motion City Soundtrack, Hellogoodbye, COIN, Night Riots, Sorority Noise, RVRB, Eisely, Civilian and many others of the same genre.
Artists
Silver & Gold
Silver & Gold is the best band you've never heard of. With an original sound and a stellar live show to match, the band released their debut EP, Compression, on October 31st, 2014. One year later they released the Headed West EP, a 2-track EP produced by Chris Beeble at the Blasting Room Recording Studio in Fort Collins, CO on BandWagon Records to critical acclaim. The band is currently playing out and gearing up to go back into the studio with Brandon Whalen of My Body Sings Electric in 2016…
Corsicana
On July 30th, 2014, high schooler Ben Pisano decided to start anew under the moniker Corsicana, named after a song by The Antlers, and proceeded to play a debut set at Englewood Fun Fest later that year. Following this, Corsicana maintained a lower-key live presence, playing only a few solo shows at small venues such as 7th Circle, choosing instead to focus on writing new material and to begin assembling a home studio. In November, Corsicana's debut EP, Discomposure, was released. March of the following year saw Corsicana score their second short film, this time Venture Compass Pictures' Autumn Colors. In June, Corsicana played a successful show at Herman's Hideaway, and on July 25th, Corsicana released their self-titled EP at a headlining full band show at the Mercury Cafe. Corsicana was then discovered by Pandora Radio curator Michelle Solomon, and promptly incorporated into Pandora's music collection. With a renewed focus on playing shows and gaining traction, the band went on to play at locations such as the Museum of Contemporary Art and the Moon Room at Summit Music Hall, coupled with a special acoustic show at the Mercury Cafe in December to close out the year. 2016 proved to be one of the band's stronger years, starting with a show at the Bluebird Theater. In late March, Corsicana began work on their debut full-length, Haven. The album was released on September 23rd, with an accompanying release show the night before. By November of 2016, Corsicana had opened for NPR Tiny Desk contest winner Gaelynn Lea, seen radio play on CPR's Open Air station, and toured through Idaho, Washington, and Montana with fellow Denver band "Dear Me,". In March of 2017, Corsicana was invited to the CPR Open Air studio, and recorded their first ever live radio session. This was followed up with a UMS performance, two opening dates with national act Hippo Campus, and one with Brooklyn act Wilsen. The year ended with the band opening for Devotchka at the Boulder Theater. They are now in the process of writing and recording their second full-length record.