BandWagon Presents
with
Wil E Haze • Hex Rated • Shock & Dash • Tre Verse • FritzTheKid
The Black Buzzard at Oskar Blues
@ 8:00 pm
Ages 18 and Up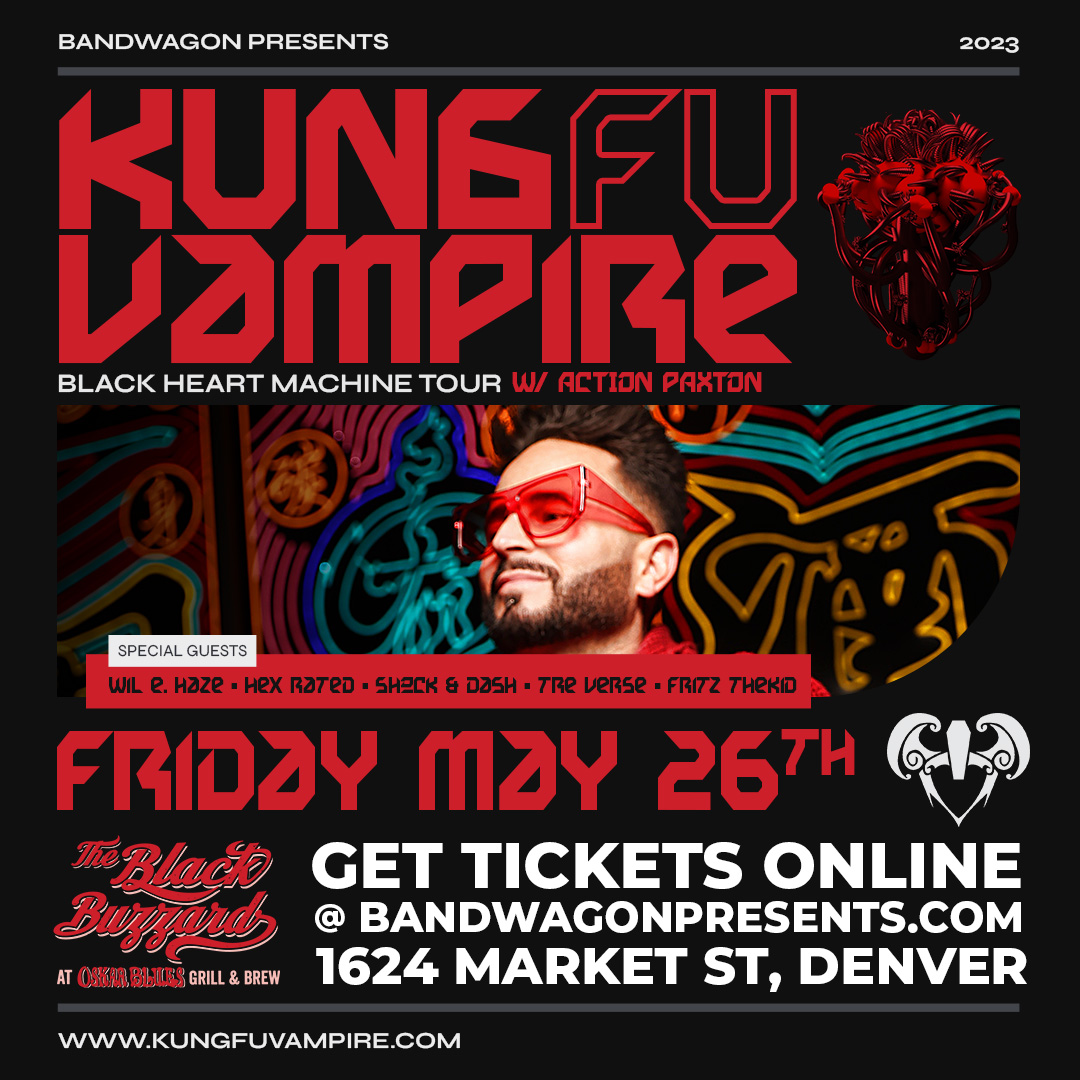 Additional Info
Kung Fu Vampire began breakdancing at 5 years old then started rapping at 14 while at the same time, drumming in the high school Jazz Band. Just a few months into Freshman year, a classroom argument broke out between the teacher and KFV as he threw drumsticks at the teacher and walked out of the room stating "FU*K YOU, I'm starting a Rap Group" that was his last day in Music class.
* In 2001 the concept of Kung Fu Vampire was formed, followed by 2004's "Blood Bath Beyond" CD/DVD. In 2009 KFV's "Dead Sexy" gained major traction w/ 20K sold and was included in Rolling Stone's "Top 500 Album Covers"
* 2013 KFV was featured on "Zombie" by E40 w/ Tech N9ne & Brotha Lynch, in 2014 he was seen on The Discovery Channel's "Oddities" his music can be heard in movies on Netflix including "Tales Of Halloween" & "Mother's Day" both directed by the SAW franchise director Darren Lynn Bousman. Kung Fu Vampire has performed at The Saw 3 Movie Premiere and at The Playboy Mansion.
* Kung Fu Vampire has done 17 Tours since 2010 (US, Mexico, Canada)
* KFVs latest album "Come Dawn" (featuring viral sensation Futuristic and freshly released from prison after 26 years, X-Raided) landed at #38 on the billboard top 200 charts and #18 on the iTunes Charts in Hip Hop. During a recent instagram post, it was revealed his acting role as a Cartel Gangster in an action film had just been wrapped in Hollywood. Stream "Come Dawn" now and experience his greatest body of work to date.
Artists